The International Critical Incident Stress Foundation, Inc. (ICISF) is a not for profit, 501 c(3), open membership organization dedicated to the prevention and mitigation of disabling stress. Please see below for information and an application for joining ICISF which is a valuable tool for keeping up with the latest advances in crisis intervention and CISM.
---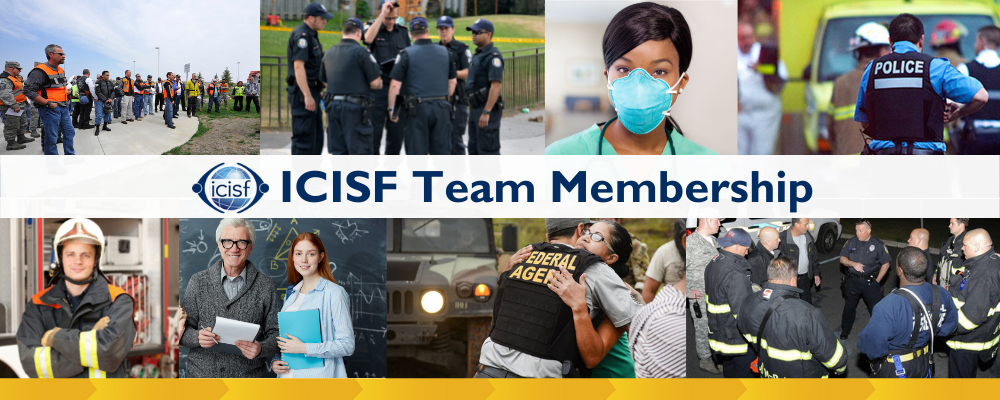 ---
Membership in ICISF places the team in an International Network of Critical Incident Stress Management teams, service providers, administrators, commercial and industrial services, researchers and educators who function in the field of activity associated with critical incident stress and post trauma syndromes.
---
ICISF Team Membership
is for those groups of individuals that have officially formed a CISM/Peer Support Team within their agency, organization or community. 
You will have to submit a "
Team Update Form
" annually with your team's information.
  We don't offer ICISF Team Memberships to groups of individuals, only verified CISM/Peer Support Teams.
Team Membership Benefits: Effective December 15, 2021
---
Must be a current registered ICISF Team to receive benefits
Each ICISF Team will have available to them these DIGITAL items in their member account: One (1)  team membership certificate (Can download and print through team coordinator membership account)
Each

NEW ICISF Team Coordinator

will receive the ICISF Quick Reference Cards as a one-time digital download.  

Additional digital quick reference cards can be purchased through the

ICISF App

or hard copy sets are available for purchase in sets of 10 or more (contact Kate Looram -

[email protected]

).
All ACTIVE team coordinators and members will be able to login to their own account to print/download a DIGITAL ICISF Wallet Cards.

All Team Members receive discounts on ICISF apparel and merchandise on our member company store (

discounted prices are reflected on Member-Only Store

)

All Team Members have access to quarterly LifeNet Newsletter via the website including previous issues

All Team Members will have access to our

Standard Operating Procedures & Guidelines

samples from national, international and government organizations and agencies

All Team Members are eligible for a

15% discount

off registration rates on all ICISF Live Trainings, Online Courses and the World Congress. (

Courses taught by Approved Instructors are not included in this discount benefit

)

ICISF Team Members may receive emails from the ICISF Team about important membership updates

Enterprise Rent-A-Car Corporate Code for

discounted pricing for business or personal use
When available

, individuals are eligible to apply for scholarships to ICISF Live Training, Online Courses and the World Congress (

Refer to the Academy of Crisis Intervention Scholarship Fund page for additional information

)
Our current pricing is as follows for a Two-Year ICISF Team Membership:
$260.00 for up to 20 team members
An additional $10.00 for each member over the initial 20 team members.
Please Note:
You can NOW fill out your new/renewing ICISF Team Memberships ONLINE!   Please click on the links below to fill out application information and provide payment for new/renewing team memberships online.
There is no limit to the amount of members you can have listed on your team.
---
New/Renewing ICISF Teams can now become members ONLINE!
ICISF Team Membership can NOW be filled out and paid for ONLINE!
Please click on the "New Team Membership - Online Form" and fill out the forms to sign up for Team Membership:
Team Membership/Roster Application (Now Available Online)
Team Update Form (REQUIRED) - Please email

Team Update Form

to

[email protected]

.
---
Renewing Your Team Membership
Every year, ICISF requests that you submit a new Team Update Form so that we have updated team membership information in our Team database.
When your two-year membership is getting ready to expire, please log in and click "Renew" to renew your team membership information and provide payment to renew your Team Membership:
Team Membership/Roster Application (Now Available Online)

Make sure to check your current, active team members as you renew your team membership!  Delete non-active team members and let us know how many new team members you would like to add as you go through the renewal process.

Team Update Form (REQUIRED) - Please email

Team Update Form

to

[email protected]

.
---
ICISF accepts payment for Team Membership by Check or Credit Card (Visa, Mastercard, American Express, or Discover).
Please Note: Both payment and associated forms must reach ICISF Office prior to Team Membership being processed.
If Paying by Credit Card:
Fill out payment information on online application forms above for both new/renewing team memberships.
If Paying by Check:
Please reach out directly to Michelle Parks at [email protected].
---
Questions?
If you are unable to complete the NEW online team membership application forms or team update form, please contact Michelle Parks.
Email: [email protected]
Fax: 1-410-750-9601, Attn: Michelle Parks
All forms and payment must be submitted before team membership can be processed.